Christmas Gift Ideas for the Sneakerhead in Your Life
(Photo via Instagram / @shinelikesneakers)
Admit it, it feels like you were just dressing up for Halloween and then blinked your eyes, and suddenly, now it's December.
The holidays seem to be going by faster this year and with Christmas quickly creeping up, there are only a few short weeks left to lock down the perfect presents.
Don't worry if you're scrounging for Christmas gift ideas for that sneaker lover in your life, X has you covered. We'll help you find the best sneaker gear for everyone on your list.
---
For your sister who loves suede...
(Photo via Instagram / @peachandpepper)
Give the gift of restoring her sensitive shoes.
Your sister is stylish in reaching for a trendy pair of suede sneakers. However, she probably knows better than anyone that suede can be difficult to keep clean.
Whether it's scuffs or stains, the slightest misstep can turn that trendy pair of suede sneakers into a dingy mess.
Luckily, you can play Santa and find her the perfect solution this Christmas. Stick a suede and nubuck eraser and a boar bristle brush in her stocking this year.
(X Clean & Restore Suede and Nubuck Kit / $16)
Not only does the eraser easily rub away stubborn marks, the boar bristle brush will relieve unsightly nap. Your gift will have her rocking her favorite suede shoes again in no time.
---
For your brother who rocks basketball kicks...
(Photo via Instagram / @jordan.retro.2345)
Give the gift of protecting his pairs outdoors.
Not all basketball kicks face the indoor courts. If your brother is more of an outdoor player or just likes rocking the style while out and about, he's going to need some extra protection.
Unlike the safety indoor courts offer, shooting baskets or chilling outside exposes his sneakers to an array of environmental irritants.
(X Sneaker Water & Stain Repellant / $16)
Keep his swag at its highest levels by sliding a water and stain repellant under the Christmas tree.
The easy-to-use spray helps stains slide away instead of sticking, without altering the texture of his shoes. When the winter weather brings puddles to the free throw line, he'll definitely be thanking you.
---
For your super stylish aunt...
(Photo via Instagram / @urbanstaroma)
Give the gift of new shoes.
For that trendy aunt in your family, Christmas gift ideas can be a little trickier. After all, you want to find something stylish, unique and that she'll totally love.
Luckily, online shopping offers the perfect solution for finding the latest and most creative styles on the market.
(To get the Honey extension, click here.)
When it comes to sneaker shopping specifically, there's a plethora of "too-good-to-be-true" offers online. Instead of falling for their traps, try buying from the primary brand or trusted secondary dealers like Stock X, GOAT or Stadium Goods.
---
For your dad who likes classic and clean...
(Photo via Instagram / @ulti_clan)
Give the gift of detailing his daily sneaks.
When it comes to your dad, he's the kind of guy who sticks to what he knows. So, it's to no surprise that he throws on the same pair of sneakers everyday after work.
While he may feel most comfortable in that classic pair, all that wear can be bad news for his favorite shoes. To make them last as long as possible, it's important to clean them regularly.
(X Clean + Protect Sneaker Cleaner Exclusive Kit / $44)
When it comes to Christmas gift ideas for dad, investing in a kit that satisfies all of his sneaker cleaning and detailing needs is the perfect way to say thank you for always providing. 
Among the major highlights in the X Exclusive Kit are the foaming cleanser, which will restore his shoes' classic shine and microfiber cloths that will remove any leftover debris.
---
For your mom's leather obsession...
(Photo via Instagram / @newyorkcitystylist)
Give the gift of conditioning her luxurious leathers.
Your mom likely rocks leather because it's fashionable and practical. Leather is one of the best purchases in your closet because of how long it lasts. That is, if it's cared for properly.
It's time to give back to the woman who is always there for you by giving back to the shoes that are always there for her. To keep her leather shoes looking luxurious longer, this Christmas, invest in a detailing and conditioning kit.
(X Detail & Condition Kit / $13)
Just because her leather comes in the form of a cool pair of sneakers, doesn't mean that you should skip out on the polish. Keeping up the leather on her sneakers is just as important as maintaining her pricey leather heels.
The shoe cream in the kit ideally caters to the leather material, while the thin dauber is well-suited to clean deep into sneakers' stubborn crevices. 
---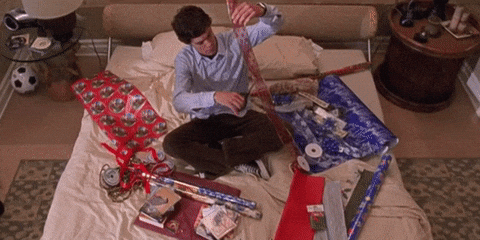 Now that you have all of your Christmas gift ideas for the sneaker lovers in your family, your final feat will be keeping track of the tape when you start mixing eggnog and wrapping paper.